Overview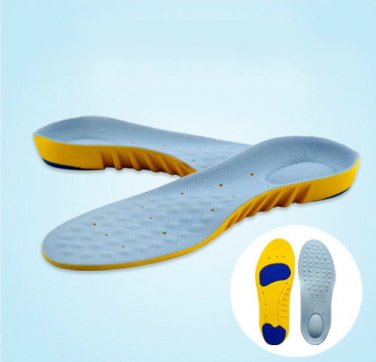 Fallen arches, also called flat feet or pes planus, is a condition in which the entire bottom of the foot touches the ground when a person is standing. A normal foot has an arch between the heel and the ball of the foot. Fallen arches are typically an acquired condition, though flat feet may be present from childhood if the arch never developed in the first place. In some cases, usually those in which the arch never developed, flat feet are not a cause for concern. If they develop in adulthood, however, causing a rigid flat foot, the condition is usually accompanied by pain and can cause serious health issues.
Causes
Family history, experts say fallen arches can run in families. Weak arch, the arch of the foot may be there when no weight is placed on it, for example, when the person is sitting. But as soon as they stand up the foot flattens (falls) onto the ground. Injury, arthritis, tibialis posterior (ruptured tendon), pregnancy, nervous system or muscle diseases, such as cerebral palsy, muscular dystrophy, or spina bifida. Tarsal Coalition, the bones of the foot fuse together in an unusual way, resulting in stiff and flat feet. Most commonly diagnosed during childhood. Diabetes. Age and wear and tear, years of using your feet to walk, run, and jump eventually may take its toll. One of the eventual consequences could be fallen arches. The posterior tibial tendon may become weakened after long-term wear a tear. The postario tibial tendon is the main support structure of the arch of our feet. The tendon can become inflamed (tendinitis) after overuse - sometimes it can even become torn. Once the tendon is damaged, the arch shape of the foot may flatten.
Symptoms
Flat feet can cause a myriad of symptoms, from experiencing pain in the foot, heels, arch, calves, the shin, the knee, the hip and into the lower back due to overworking of the hip flexors or they may find it hard to stand on tip toes.
Diagnosis
Determining whether you have fallen arches may be as easy as looking at the shape of the middle bottom of your foot. Is there any kind of arch there? If you cannot find any kind of arch, you may have a flat foot. There are, however, other ways to decide in case you're still not sure. Another way to figure out if you have flat feet is to look at a few pairs of your shoes. Where do you see the most wear on the heels? If you notice significant wear in the heel and the ball of the foot extending to the big toe, this means you are overpronating. Overpronators roll their feet too far inward and commonly have fallen arches. To figure out if you have flat feet, you can also do an easy test. Get the bottoms of your feet wet and then step on to a piece of paper carefully. Step off the paper and take a look at the print your foot made. If your print looks like the entire bottom of a foot, your feet are flat. People with an arch will be missing part of the foot on their print since the arch is elevated off of the paper. Regular visits to your podiatrist are highly recommended.
how to fix fallen arches
Non Surgical Treatment
Treatment of flat feet by a fully educated, trained, and licensed podiatrist should be sought if the previously mentioned pain in the foot or knee areas start to surface and becomes a painful problem. Depending on the cause and exact type of the condition, a variety of forms of treatment may be prescribed. Verification of the exact cause and type of flat feet that each individual has, should only be handled by a professional podiatrist. Often times, the actual treatment method will include some form of arch support or light gymnastic style exercise. In rare cases, something more involved may be necessary, but only your skilled podiatrist would be able to accurately make that determination. If you suffer from flat feet, plantar fasciitis, or any other form of problematic foot condition, we encourage you to contact a foot clinic today and potentially rid yourself of that problem in virtually no time at all.
Surgical Treatment
Surgery is typically offered as a last resort in people with significant pain that is resistant to other therapies. The treatment of a rigid flatfoot depends on its cause. Congenital vertical talus. Your doctor may suggest a trial of serial casting. The foot is placed in a cast and the cast is changed frequently to reposition the foot gradually. However, this generally has a low success rate. Most people ultimately need surgery to correct the problem. Tarsal coalition. Treatment depends on your age, extent of bone fusion and severity of symptoms. For milder cases, your doctor may recommend nonsurgical treatment with shoe inserts, wrapping of the foot with supportive straps or temporarily immobilizing the foot in a cast. For more severe cases, surgery is necessary to relieve pain and improve the flexibility of the foot. Lateral subtalar dislocation. The goal is to move the dislocated bone back into place as soon as possible. If there is no open wound, the doctor may push the bone back into proper alignment without making an incision. Anesthesia is usually given before this treatment. Once this is accomplished, a short leg cast must be worn for about four weeks to help stabilize the joint permanently. About 15% to 20% of people with lateral subtalar dislocation must be treated with surgery to reposition the dislocated bone.